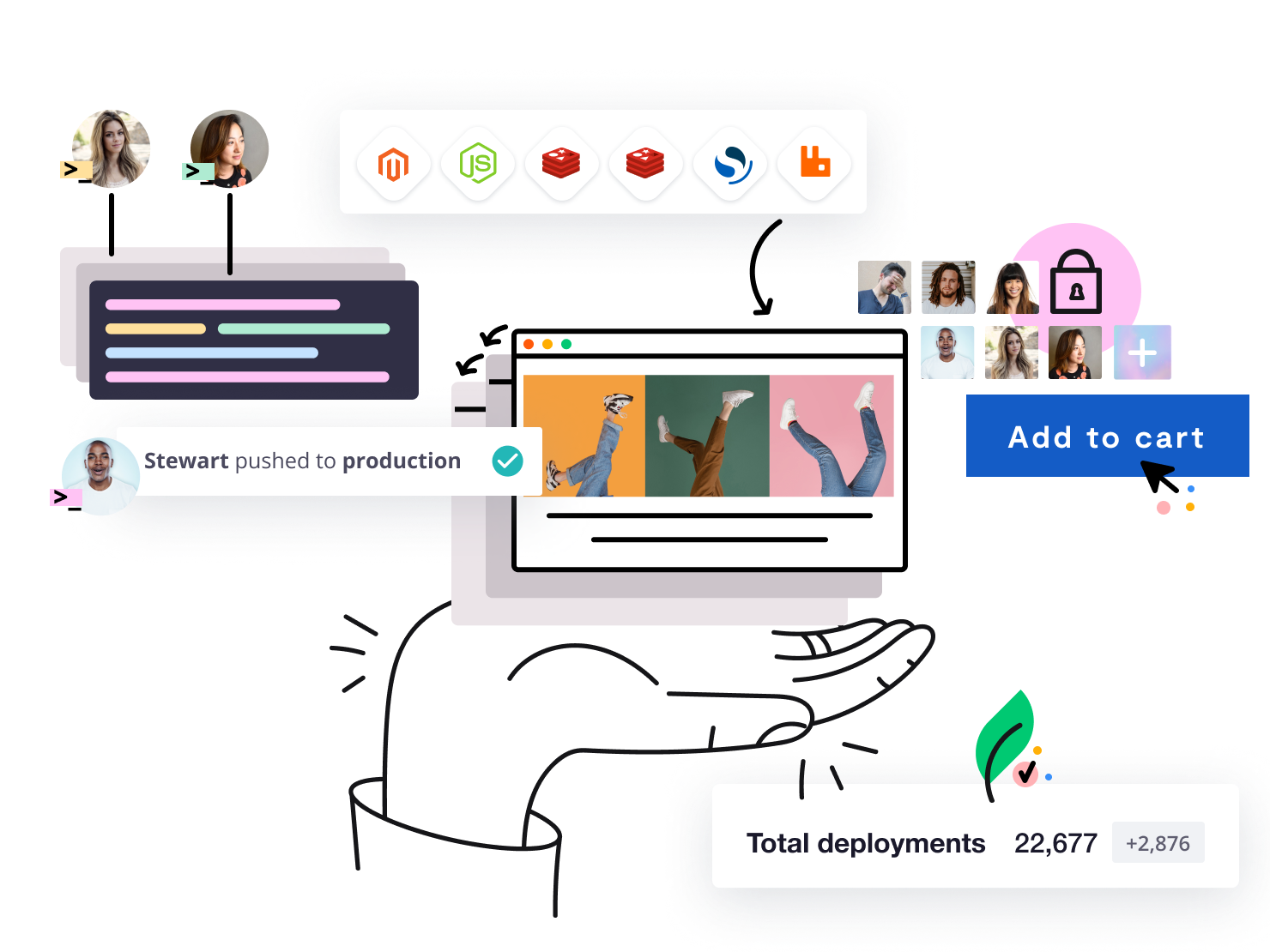 Platform.sh for ecommerce
Wave goodbye to the pain of managing thousands of application infrastructures across hundreds of outdated systems. With Platform.sh, you can transform how you manage your ecommerce infrastructure, outpace the competition with faster time to market, and reinvest your team's time into what delivers the most value.
Free trial
Trusted by companies like yours

With you through every season
No matter your preferred framework, CMS, runtime, or programming language - our platform is engineered to effortlessly manage ecommerce infrastructure all year round. And with our simple migration process, you can get started in no time. Worried about traffic spikes during the holiday period? Got to get a new campaign to go live asap? Sick of having to factor in downtime for website updates? You're in the right place.
The problems we're helping you solve
Modernize and minimize tools
Managing multiple applications is no easy task. Especially when demand is high and your team are stretched across multiple systems and tools for each. That's why we provide one reliable platform to conduct all of your infrastructure management tasks for all of your applications simultaneously.
Move quickly, no matter the reason
When it comes to updating applications for new campaigns or product releases, too many ecommerce providers find that things just aren't moving quick enough. With Platform.sh, you can test, approve, and deploy application changes confidently in minutes with no need for downtime or bug fixes.
Team collaboration from anywhere
Whether your team are on-site or remote, Platform.sh provides the collaborative development environment you need to deliver the best user experience possible. Our Git-based system and workflow makes it easy to securely share, collaborate, and contribute to applications across teams.
The benefits you should know about
Auto-scaling to support demand
Save time and money spent on CI/CD and scaling with Platform.sh auto-scaling capabilities. Our platform automatically doubles the resources of your production environment to handle anticipated traffic surges with no human intervention needed. Bring on the next holiday season!
Blackfire monitoring and optimization
Access and manage Blackfire code performance metrics for all of your applications from one dashboard interface with our Observability Suite. From there you can monitor, profile, and optimize your code to ensure you're delivering the best user experiences.
24/7 global support and uptime guarantee
That's right - we provide 24/7 global support for our customers so they can access they information they need whenever they need it, no matter what timezone they are in. And with an uptime guarantee of 99.99% for our enterprise and elite customers, we've got you covered.
Our platform is powered by greener hosting
The IT sector is responsible for 4% of global carbon emissions (Belkhir & Elemeligi, 2018) and we're on a mission to reduce that through our MODE strategy for greener hosting. Find out more on our Greener Hosting page.
Our ecommerce community
Athletic eyewear retailer, SportRx, achieved peak performance with Platform.sh after they were on the hunt for a scalable solution to help them modernize their development and deployment workflow. Discover how we did that here.
We helped Swiss bag manufacturer, FREITAG, take their ecommerce applications to new heights by replacing their outdated online shop with an exceptional digital shopping experience. Find out how we worked together to make it happen here.
After testing out several ecommerce cloud hosting solutions, Califrais decided that Platform.sh was the solution they needed to optimize their large-scale food logistics. Find out we helped them and leading food wholesaler, Rungis Market, here.
We don't think or talk about deployments anymore
They take care of running the application so we can focus to build it
-Sébastien M.
Read more G2 reviews