A more complete and more cost-effective alternative to Heroku
Why are people switching from Heroku to Platform.sh?
Platform.sh gives you the power to build and deliver predictably—without costly add-ons—in the UK, Germany, Ireland, France, US, Canada, and Australia
Heroku and Platform.sh both help you run applications in a variety of languages and frameworks. But the similarities end there.
If you're just starting a project, Heroku makes it easy to build something new in the programming languages you're already familiar with.
But when you're ready to scale—to more users, expanded services, increased traffic, or multiple sites—or even if you just need enterprise grade uptime and support, Heroku gets expensive or doesn't offer a solution at all.
More than 5,000 customers worldwide develop and deploy their sites on Platform.sh. What drove their decisions for Platform.sh over Heroku? We asked, and they answered, below.
1. No need for expensive "add-ons" with Platform.sh
Heroku supports many databases and other services, like PostgreSQL, Kafka, MySQL, Redis, Elasticsearch, Solr, RabbitMQ, and MongoDB.
The challenge with Heroku: Many of those add-on services are delivered by third parties, and each has its own pricing model.
With Platform.sh, not only are all data services maintained and secured by our team, they're included in your project price. You pay for the capacity to run your whole project without complex billing models that quickly get expensive as you scale.
Some add-ons for Heroku are not available in all regions, and each integrates differently with your project.
With Platform.sh, including a new service is simple; just describe what you need and how you want it connected to your application: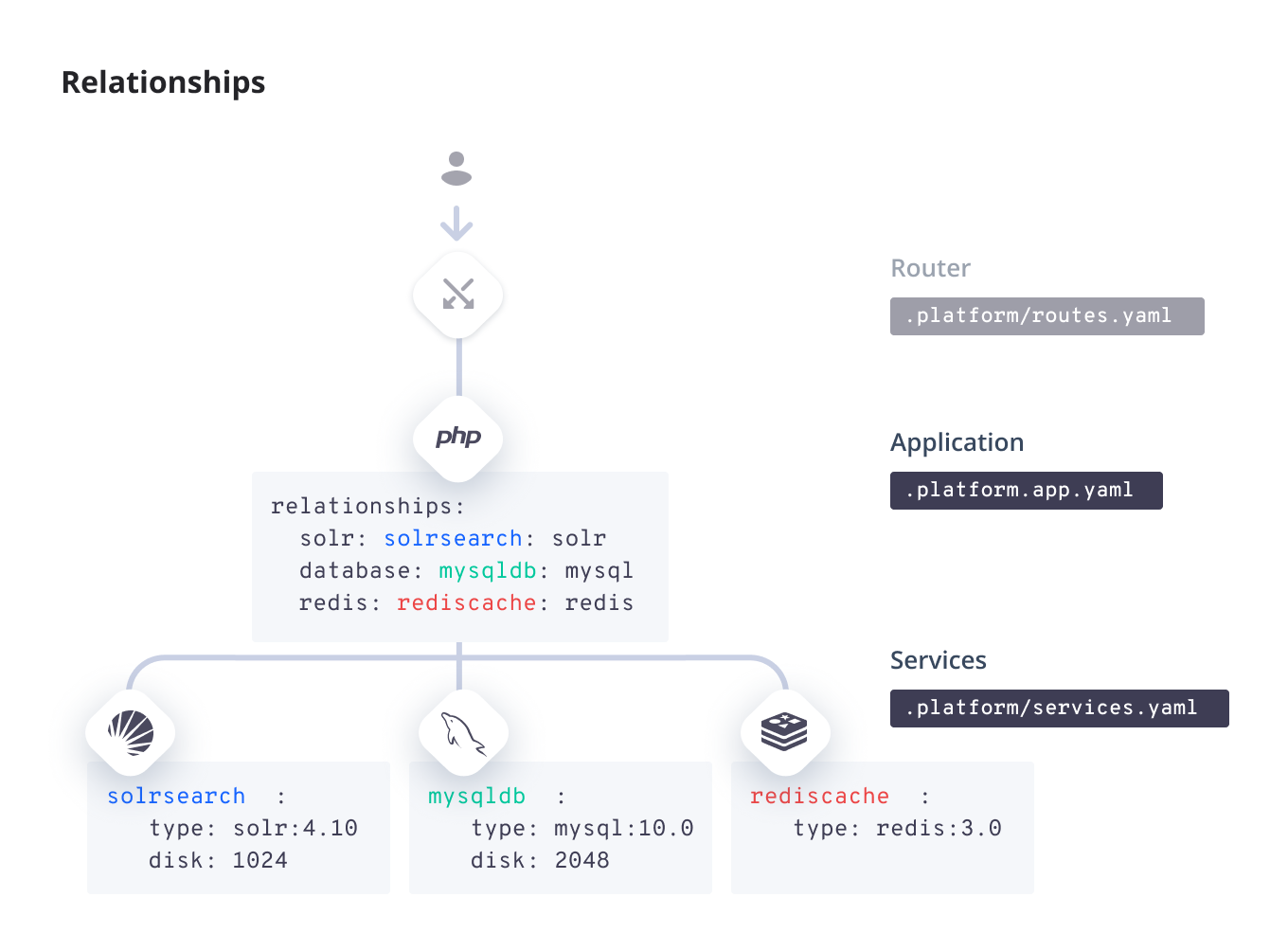 Services and runtimes (PHP, Java, Go, NodeJS, and more) are supported across all of our regions and cloud partners.
2. Container-driven continuous integration and continuous deployment (CI/CD) built-in
Heroku offers a CI product as an add-on, priced on a per-pipeline basis, in addition to the cost of executing your integration processes tests. Both metrics are hard to predict.
Platform.sh takes a very different approach. Our CI/CD pipeline is built into the core of Platform.sh, enabling you to compile dependencies, run tests, and deploy automatically to containerized infrastructure, with predictable cost.
Need another deployment environment for testing or vetting with a stakeholder? It's available on demand at a consistent price.
3. Our primary API? Git.
With Heroku, you can manage your code in Git and manually connect that repository to a Heroku application environment. That's pretty cool.
What would be even better?
How about having your entire application instantly cloned from production, for every branch you create—data and all?
Platform.sh enables you to run one command—git checkout -b new-idea—to create a perfect, nearly instant clone of your application, and all its services.
The Platform.sh workflow supports nested branches. This is great for teams, because it means you can group work by feature, team, or release. Whatever works for you. And you can push changes live from any branch. Each environment also has configurable access control for devs and viewers, and free, auto-generated SSL certificates.
Because services are defined by simple yaml markup, making changes to infrastructure and managing upgrades is as simple as a git merge too. Platform.sh also has a robust API, and plays well with the rest of your DevOps toolchain via flexible integrations and webhooks.
4. Uptime SLA—99.99% vs zero
Platform.sh can provide "four nines" (99.99%) high-availability guarantees for mission-critical sites, powered by our Enterprise HA architecture. That is less than seven minutes of downtime a month, and a support response SLA of less than an hour for urgent tickets. Platform.sh runs thousands of ecommerce sites and has extensive experience managing mission-critical sites and apps. Our global team is ready to assist, 24/7.
Heroku promises to do their best, but contractually, you're on your own.
5. Heroku works for single apps, but what if I have dozens, or thousands in my fleet?
Heroku offers an Enterprise Add-on for teams to manage access to multiple projects. In fact, it's the only way to get compliance guarantees and secure data residency.
With Platform.sh, role-based access control to your apps and environments is included. You can grant access to view, contribute to, or manage individual environments or whole projects, to keep your development process secure.
What makes Platform.sh the better choice for many websites or apps (whether you've got 10 or 10,000)?
Platform.sh was built for managing website fleets at scale. That's why Orange, Symfony, and Magento chose Platform.sh as their partner.
Here's what Platform.sh offers, if you're managing many sites or apps:
One Git command, and Platform.sh clones your entire production app—data and all.
Platform.sh for Website Fleets
A complete governance platform with enterprise-grade support
Single dashboard to manage all your apps on multiple stacks
Tools to patch and update your fleet
Template Libraries to provision new apps in moments
Access control, multicloud, multiregion support
6. Choice is good. That's why Platform.sh is multicloud.
Choosing which Infrastructure-as-a-Service (IaaS) provider to use can be a gamble, and once your die is cast, it's hard to switch. The same can be true of your hosting or PaaS provider. That's why most hosting providers like Heroku work with only a single IaaS partner (in Heroku's case that's AWS).
Instead, Platform.sh makes it easy to use the IaaS provider that works best for your business, whether your choice is based on data locality for compliance, getting your application as close to your end users as possible, or simply preference. We can run your applications in the US, Canada, Australia, UK, Ireland, Germany, andFrance.
Platform.sh works with four IaaS partners—Amazon Web Services, Google Cloud Platform, Microsoft Azure, and Orange—to give you the most choices and global reach. And you can run the same code across all four of these platforms without making any changes.
7. Strict data residency available—ready for BDSG or Brexit
We also take security and compliance seriously. For some countries and companies, that means hosting locally too. Not only are we SOC 2 certified, we're compliant with the CASL in Canada, and Germany's BDSG and strict data residency and access rules.
Need to run your fleet in a custom location? Let's talk.
Power. Simplicity. Freedom.
The best tools are the ones that fade into the background and let you get on with your work. Find out how we can help your organization focus, faster. Chat with our team now, or try out Platform.sh for free, below.