Save $1M

in IT/DevOps operating costs
Switching to Platform.sh can help IT/DevOps organizations drive 219% ROI
We commissioned Forrester Consulting to conduct a Total Economic ImpactTM (TEI) study1 to understand the true value of Platform.sh's single solution for IT/DevOps organizations.2
By downloading the full report, you'll learn how Platform.sh's unified Platform-as-a-Service (PaaS) solution not only boosts IT/DevOps organizational efficiency, but also drives significant long-term operating costs savings—just to name a few of the benefits.
Download the report
Fill out the form to get your copy of Forrester's Total Economic Impact™ (TEI) study.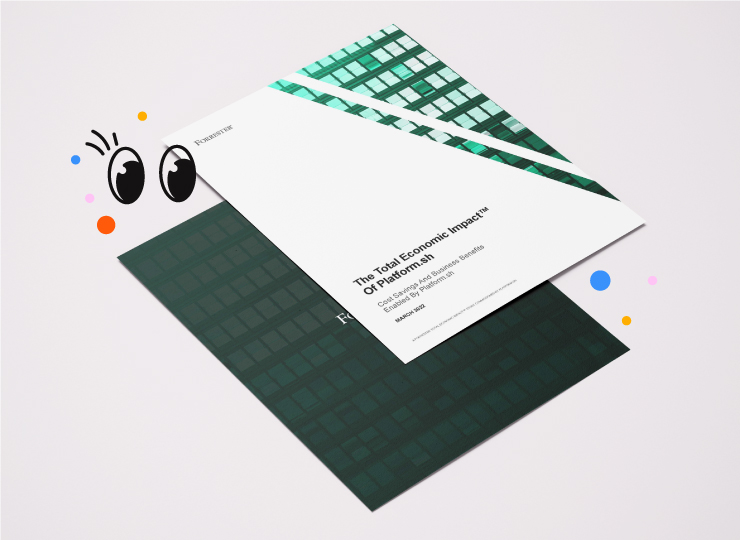 What's in this report?
Managing a portfolio of websites and web apps at scale is challenging and can sometimes limit an IT/DevOps team's ability to meet both internal requirements and customer expectations.
Therefore, this Forrester TEI study uncovers how Platform.sh can help IT/DevOps teams:
Reduce total operating costs
Increase operational efficiency
Eliminate the need for multiple solutions
Platform.sh is the simple solution trusted by thousands of companies like yours
Our customers love us
"Phenomenal application hosting power,itty-bitty learning curve"
"One of our best decisions in a decade"
"Sweet spot between shared hosting and container hosting"
Since using Platform.sh I don't have to worry to wake up at night!"
"Flexibility without sacrificing security or performance "
"Secure and easy to develop on"
"Fast and excellent migration to the new environment"
"A web application developer's dream"
1 Total Economic Impact is a methodology developed by Forrester Research that enhances a company's technology decision-making processes and assists vendors in communicating the value proposition of their products and services to clients. The TEI methodology helps companies demonstrate, justify, and realize the tangible value of IT initiatives to both senior management and other key business stakeholders.
2 Interviews were conducted with multisite clients only. The figures presented in this report reflect a fleet of mixed sites in terms of sizes, traffic, and criticality. While Platform.sh will still provide a positive ROI for single sites (e.g., ecommerce, web app), the conclusion from this report can't be used as-is.