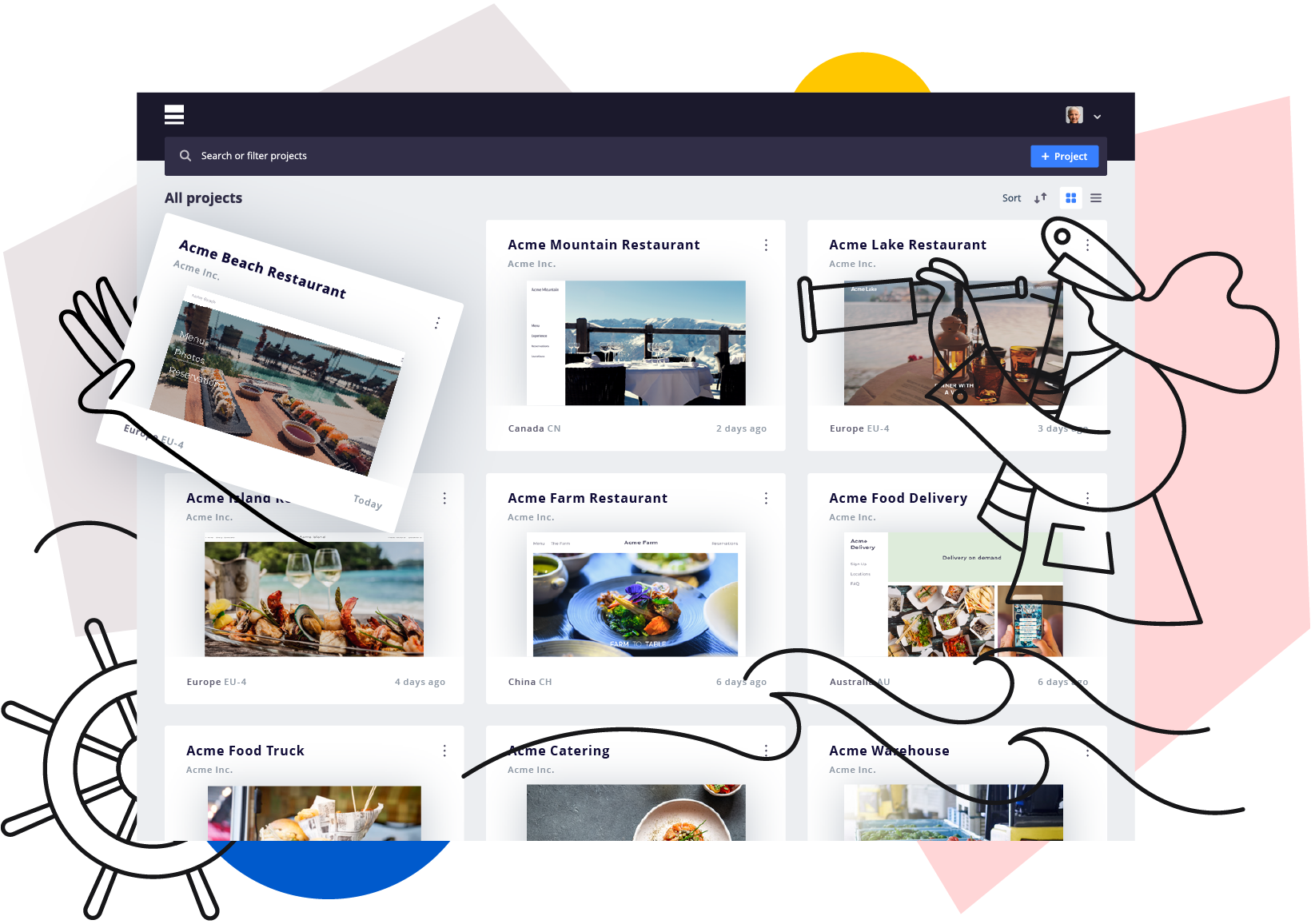 FleetOps: The secret to managing your growing website fleet
Your organization is running thousands of apps and websites. Learn how to manage them efficiently, securely, and predictably.
Free trial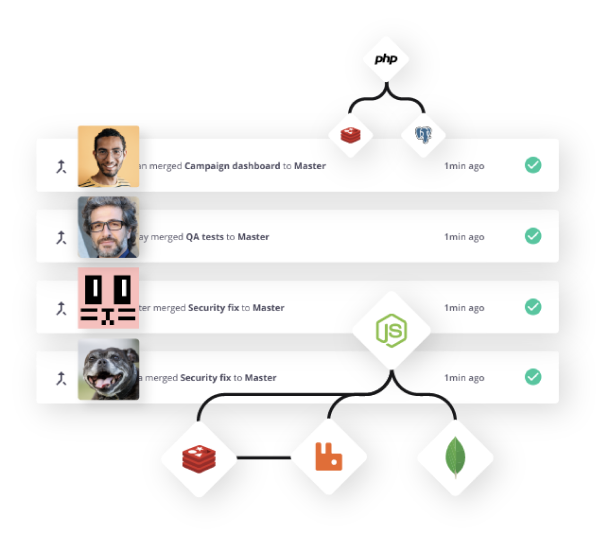 The website fleet challenge
As the size of your website fleet grows, so do the challenges in managing it. Your websites could be designed by different teams, be built from different languages and frameworks, and run on different hosting solutions. That's why you need a FleetOps strategy.
What is FleetOps?
You're familiar with DevOps: combining software development and IT operations to shorten development life cycle and supply continuous delivery. FleetOps delivers the same promise of speed, security, and predictability, but scales it across thousands of websites and applications.
Why you need a FleetOps strategy
If you haven't incorporated FleetOps into your website fleet strategy, then you're feeling the results. Your IT expenditures are swelling alarmingly, your digital teams are working at cross-purposes, and your security protocols are patchy and difficult to coordinate.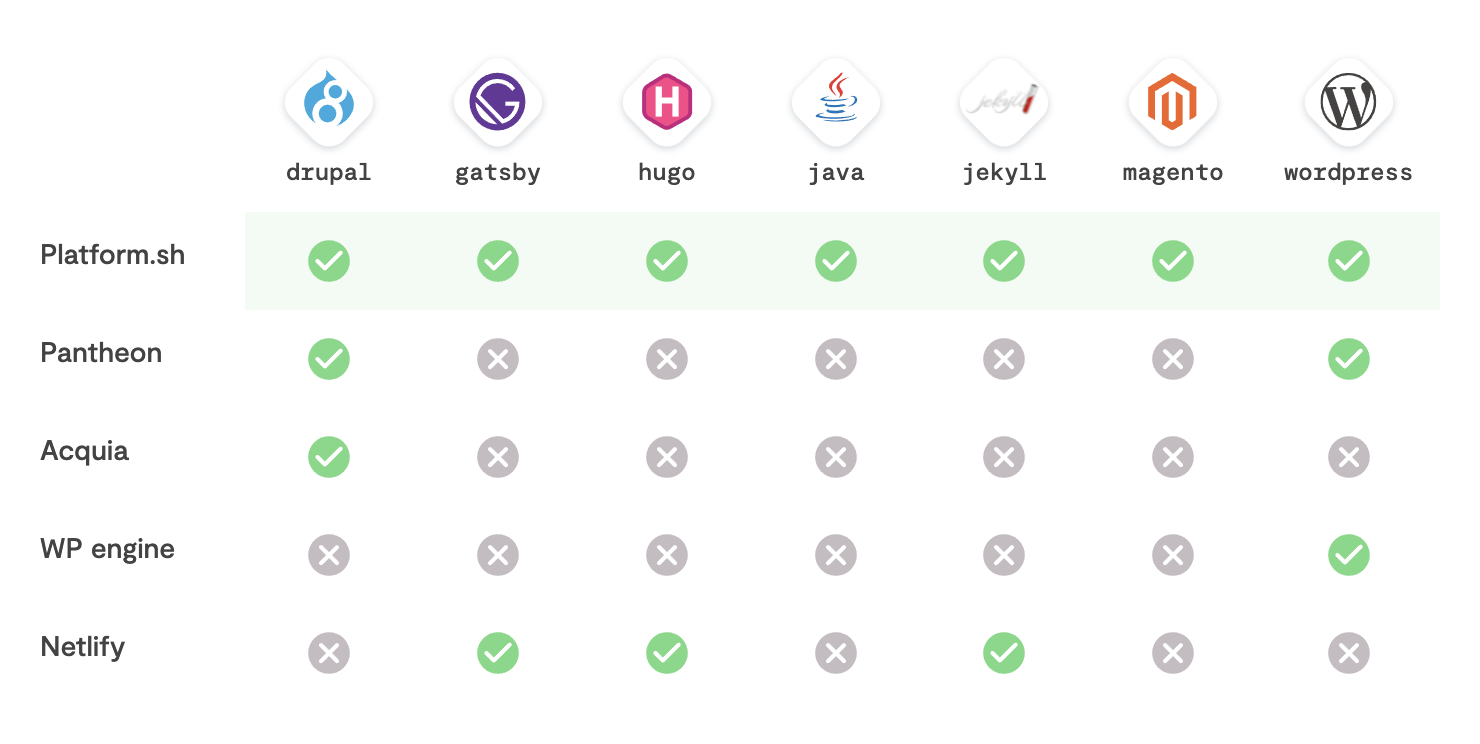 Keep your fleet flexible
Platform.sh supports Drupal, Gatsby, Hugo, Java, Jekyll, Magento, and Wordpress. Of these, Pantheon supports only Drupal and Wordpress, while Acquia supports only Drupal and WP engine supports only Wordpress. Netlify supports Gatsby, Hugo, and Jekyll, but not Drupal, Java, Magento, or Wordpress.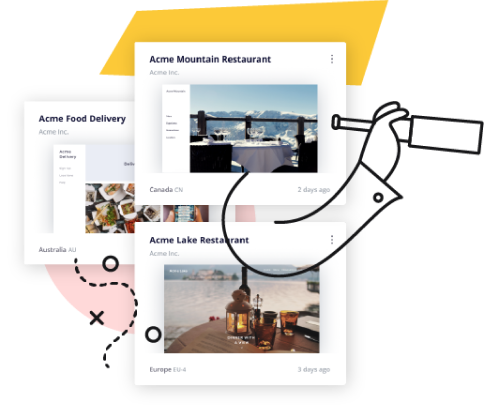 Focus on your business, not your platform
A PaaS provider will develop, test, and deploy your apps and websites; manage and tool your DevOps; and manage and budget your technology stacks and in-container orchestration frameworks. This frees you to focus your resources on developing your applications.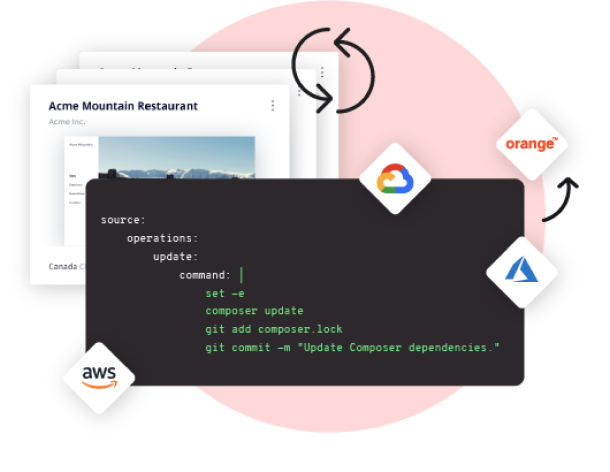 FleetOps features you can only find at Platform.sh
With the pioneering Source Operations™ feature, you can automate code updates to your sites. Source Operations enables mass updating of site code for your fleet of web apps and almost any other action you can script.
Like the idea of WordPress or Drupal multisite, but wish you could update sites selectively?
Want every site in your website fleet to update itself when it needs security patches?
Looking to transfer innovation happening in one business unit to features across your fleet?
Source Operations can do that.
Source Operations is just one of the features available with the Platform.sh fleet management toolset. And we're rolling new ones out constantly. So if you're ready to launch your FleetOps strategy, talk to us today.
Platform.sh powers website fleets worldwide

In just three months, Platform.sh helped The British Council migrate its in-house system to Platform.sh. The system now supports 1,000 staff across 120 multilingual sites with 115 million users in 110 countries.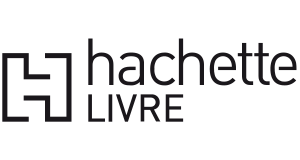 Hachette worked with Platform.sh to manage their French and international websites. We provided their editors with tools to manage their content and media with more autonomy and fluidity in their workflow.

Platform.sh delivers a web application fleet management solution for more than 6,000 Orange Business Services' SMB customers. Orange Cloud for Business gives customers the power to build and run their websites with the CMS they choose, whether it be Drupal, WordPress, Joomla, or PrestaShop.

Working with Platform.sh, the University of Missouri consolidated hundreds of websites and 13 different content management systems.