The commissioned Forrester Total Economic Impact™ study uncovers the value that Platform.sh brings to businesses deploying websites and web apps at scale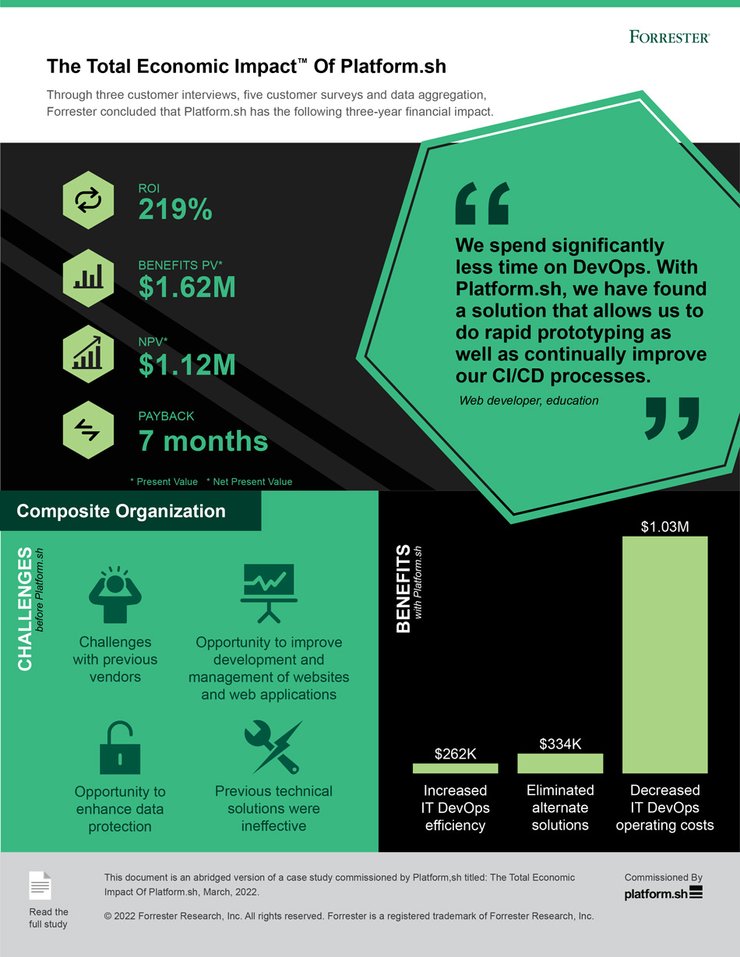 We built Platform.sh because we knew there had to be a better way for businesses to build, run, and scale a full fleet of websites and web apps at scale. After all, until we brought our solution to market, many businesses had to construct a patchwork of different vendors, technologies, platforms, and solutions to bring their digital experiences to life. But there was no guarantee that all of those different component parts would always "play nicely in the sandbox" together.
While anecdotally we knew this to be true, we wanted a little more proof to back it up. So, we recently commissioned Forrester Consulting to conduct a Total Economic ImpactTM (TEI) study1 to understand, in more granular detail, the total return on investment (ROI) that could result when businesses leverage the unified solution offered by Platform.sh.
And now that the study has been completed, we're excited to share the results. Of course, we're not going to dive into every detail here in this article, so be sure to download the full report to learn more about the findings as well as Forrester's unique methodology. That being said, to pique your interest, keep on reading for a sneak peek into the study's highlights.
3 key findings reinforcing Platform.sh's value for businesses
After speaking with a number of decision-makers2 within businesses currently leveraging Platform.sh's unified Platform-as-a-Service (PaaS) solution, three benefits really stood out:
Decreased IT/DevOps operating costs

Platform.sh provides organizations with a central, unified solution for building and managing websites and web apps at scale—without requiring them to build the infrastructure to support it, whether via piecing together multiple solutions or creating custom-made in-house tools. As a result, Forrester found that IT/DevOps teams within organizations have the potential to save composite organizations $1 million in operating costs (over three years). This includes the cost of hiring additional full-time employees to oversee and manage these tasks.

Increased IT/DevOps efficiency

For the same reasons noted above, the study concluded that "Platform.sh's built-in tools and functionality also improved efficiency by removing infrastructure maintenance tasks while allowing [IT/DevOps teams] to iterate faster and deploy more quickly." These gains in efficiency have the potential to save composite organizations an additional $262K (over three years).

Eliminated alternate solutions

Platform.sh makes it possible for IT/DevOps organizations to eliminate the complexities of working across different vendors for a variety of specific tasks—not to mention, the hassle of managing multiple contracts and vendor payments. However, what Forrester learned by interviewing decision-makers within organizations using Platform.sh is that working across "alternate solutions" was 15% more expensive than relying on Platform.sh alone. Therefore, by eliminating this all-too-common patchwork of tools and solutions, composite organizations have the potential to generate an additional $334K in cost savings (over three years).
The value of Platform.sh extends beyond efficiency and cost savings
In addition to the more quantifiable benefits that Forrester uncovered in this TEI study, there are a number of qualitative advantages of implementing Platform.sh: accelerated innovation, instantaneous deployment, improved stability, and enhanced data security.
Not only can these benefits lead to additional cost savings and other operational efficiencies, but they can also help organizations drive greater immediate and long-term value from their digital initiatives. This alone should give IT/DevOps organizations another reason to look at Platform.sh as a viable way to streamline—and potentially future-proof—their operations.
Take a deeper dive into the findings of this Forrester Total Economic Impact™ study and download the full report today.
---
1 Total Economic Impact is a methodology developed by Forrester Research that enhances a company's technology decision-making processes and assists vendors in communicating the value proposition of their products and services to clients. The TEI methodology helps companies demonstrate, justify, and realize the tangible value of IT initiatives to both senior management and other key business stakeholders.
2 Interviews were conducted with multi-site clients only. The figures presented in this report reflect a fleet of mixed sites in terms of sizes, traffic, and criticality. While Platform.sh will still provide a positive ROI for single sites (e.g., e-commerce, web app), the conclusion from this report can't be used as-is.
Get the latest Platform.sh news and resources
Subscribe