Platform.sh is proud to announce our intent to acquire Blackfire.io, a leading developer of application performance monitoring (APM) technology. We are joining forces not only because we're admirers of the company and its products, but because Blackfire.io will help us accelerate our vision and address a gap in our feature set.
Lately, we've been receiving some of the best G2 ratings among all Cloud Platforms as a Service (PaaS).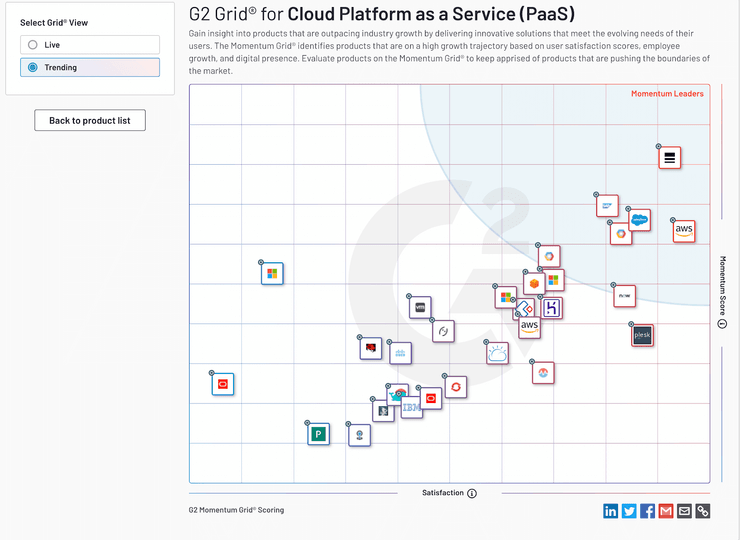 This top right position, trending ahead of companies like AWS, Salesforce, and Google, makes us very proud.
But when we look more closely into the details of these ratings, we see that six percent of our reviews have been consistently requesting more visibility into how their application performs on our PaaS.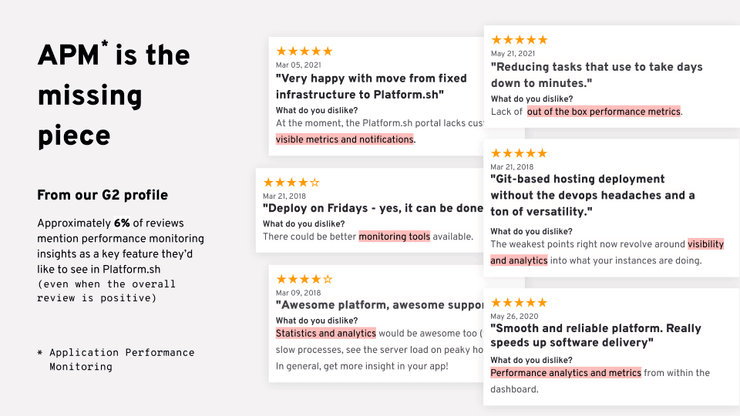 Blackfire provides robust and elegant technology that will provide our customers with the visibility and insight they need to deliver world-class sites and apps to their users. ✅🤔
This alone is a very compelling reason for an acquisition, but wait ... there's much more!
Blackfire.io is more than an APM. It's also a Profiler. Profilers enable development teams to identify performance bottlenecks, so not only will our customers be able to monitor their day-to-day performance, they'll also benefit from recommendations on how to make their application run faster and consume less computing resources. In today's world, there's no doubt that performance is key—visitors have no patience for slow applications, and Google punishes slow apps by lowering their search rankings—and wasting unnecessary computing resources is a very bad idea for the environment.
All in all, it's great to know how an application is performing, but it's even better to receive a detailed performance analysis and application-specific guidance on how to improve the situation. This is where the unique value proposition of Blackfire.io really shines.
Ok, now I get it! 🤩
But wait! There's even more!
At Platform.sh, we've been huge fans from the very beginning of the Symfony community and of their leader, Fabien Potencier. Fabien is a globally respected open source leader, but he also is a very experienced entrepreneur. And Fabien knows how to surround himself with great people. Therefore, we could not be more excited to welcome Fabien and his team to the Platform.sh team and journey. We know they'll bring us a lot and we'll learn from them. They'll make Platform.sh better and stronger. We are looking forward to building toward the future of Platform.sh together. 🥳🙏
To Platform.sh customers: Thank you for writing reviews on our product, and thank you for always keeping us on our toes. We love demanding and transparent feedback. And we heard you!
To Blackfire.io customers: Welcome to Platform.sh. We'll work hard to convince you to use both products together, and we'll smoothly integrate both products to make the experience very appealing. But please be assured that we want to keep serving you regardless of your infrastructure choice.
---
Press Release: Platform.sh and Blackfire.io join forces to accelerate observability for web app fleets
Blackfire.io is the first fully integrated Application Performance Monitoring (APM) and performance profiling suite that helps apps run faster, and makes development teams smarter, with an intelligent recommendation engine
San Francisco, May 25, 2021--Platform.sh today has announced its intent to acquire Blackfire SAS, a privately held company headquartered in Paris, France. Blackfire is the only fully integrated application performance profiling, testing, monitoring, and optimization suite for web sites and applications. The Blackfire team, led by founder and CEO Fabien Potencier, creator of Symfony–the leading PHP web application framework–will join Platform.sh. Potencier will join the Platform.sh executive team.
Blackfire brings two key technologies to Platform.sh:
Blackfire Profiler enables developers to pinpoint performance bottlenecks within their applications with robust tracing and call graphs, decreasing problem resolution time, and increasing developer productivity.
Blackfire Monitoring then continuously monitors application performance and alerts developers and devops teams to issues that may arise in production, and suggests areas to troubleshoot. Blackfire.io's recommendation engine identifies areas for improvement in all PHP and Python applications, including common frameworks like Drupal, WordPress, Magento, and Django, and is extensible with custom tests written for business use cases.
Blackfire works integrally with the Platform.sh workflow. Website fleet owners can see an overview of the health of all their live sites and apps at a glance, identify best practices, and focus efforts on improvement of user experience. Instant cloning of production apps to development environments enables teams to use Blackfire Profiler to assess the performance of their code before they go live. Because Platform.sh natively manages every change to code and configuration with Git, an auditable revision control system, teams can pinpoint exactly where performance-affecting changes were introduced in moments, implement testing techniques and validate iterations against their custom performance budget.
Website and app users expect speed. In fact, 53% of users will abandon a site that takes more than three seconds to load. To deliver on ecommerce sales goals, audience growth KPIs, or SEO value, site owners must deliver consistently fast experiences and respond to market changes. The fast-paced evolution of web technologies increases the complexity for teams to build and maintain applications. Platform.sh removes the burden of infrastructure management while supporting all latest technologies, and helps teams implement automated quality assurance best practices. By joining forces with Blackfire, the tight integration of technologies offer unprecedented visibility in vital application and infrastructure metrics. Businesses will no longer be let in the dark when creating and deploying new applications and features. And that experience is delivered out-of-the-box. Teams can focus on what matters in the moment and plan for continuous improvement. At scale: whether one app or hundreds, Platform.sh and Blackfire give teams observability into the performance of all of their applications, so the quality of user experience can be maintained, and continuously improved, even as new apps are added to the fleet, or traffic ebbs and flows.
Platform.sh will continue to support Blackfire Profiler and Blackfire Monitoring customers regardless of where their websites and applications run. Blackfire will also become available with zero installation or configuration directly within Platform.sh.
About Platform.sh
Platform.sh is the end-to-end PaaS that enables organizations to build, run, and scale websites and apps in the languages and frameworks they need to innovate. We've created the leading web platform that scales as organizations grow. Whether building a single site or deploying and managing a fleet of applications worldwide, Platform.sh takes care of hosting, management, and DevOps, so businesses can focus on development with our included tools, APIs and workflows. Founded in Paris in 2015 by Frederic Plais, Damien Tournoud, and Ori Pekelman, Platform.sh is trusted by more than 5000 organizations globally to create the best digital experiences.
About Blackfire.io
Blackfire.io is the code observability SaaS that enables businesses to improve the performance of their web applications. We've created the reference solution on the PHP market for organizations which have high stakes in delivering optimal user experiences to their customer base, and now enter the Python and Golang markets. From development to production, Blackfire.io offers detailed and intelligent insights that let teams prevent, and proactively fix issues. Founded in Paris in 2018 by Fabien Potencier and Grégory Pascal, Blackfire.io is trusted by more than 1500 organizations globally to scale the best digital experiences.
Media contacts
Worldwide: Ed Zitron ed@ezpr.com
France: Pierre Gatey pierre@agenceraoul.com
Get the latest Platform.sh news and resources
Subscribe