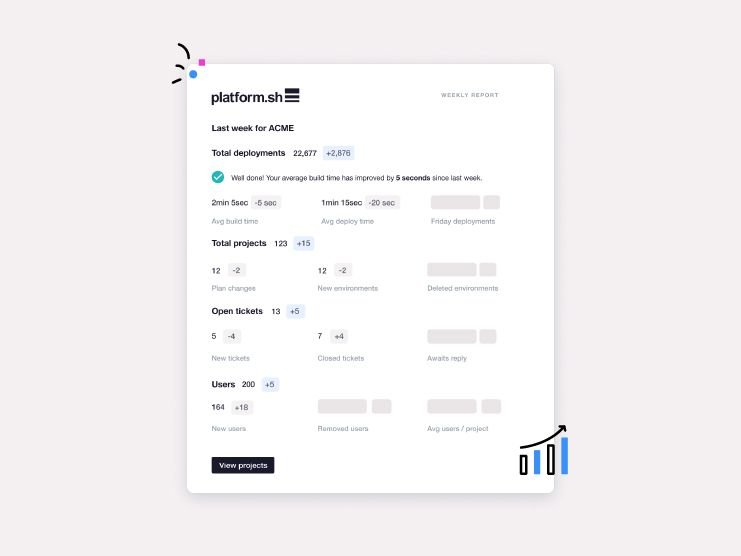 Greater organization insights through weekly activity reports emails
April 10, 2023
Keeping track of your project-related activities can be an overwhelming task. With so many projects, tickets, users, and deployments happening simultaneously, having a clear and simple high-level overview of your entire organization is a very welcome addition to any team. 
That's why we've created our Weekly Organization Activity Reports which will help to keep you on top of changes across various Projects within your organization. Giving you reliable insights into what's happened in your projects from the past 7 days. 
You can review the various metrics included within  the Reports to see key statistics (with respect to Deployments, Projects, Tickets and Users) share with colleagues for further review and discussion. Simple! 
How are these weekly activity reports helpful?
The better question is: how could they not be? 
The weekly reports have been designed to be compact yet impactful. With the focus of the reports being to provide you with weekly updates for your organization providing a clear picture through the most important key metrics, including: Total Deployments, Total Projects, Open Tickets, and Users.
The reports, once generated, will then be shared via email to the Organization Admin/Owner to provide them with those key activity insights. Ultimately allowing them to: 
Understand which projects might require attention at a certain time
Be able to do better project planning through improved observability 
Be able to easily share the results of the weekly reports with their team
Insights are always useful! How do I get this feature?
The feature is available for all Enterprise or Elite customers and all the respective Organization Admin/Owners will receive a copy of the reports on a weekly basis every Monday morning. So keep an eye on that inbox!
Awesome. But I have some feedback in mind…
We would love to hear from you! Please continue sharing your feedback and suggestions with us, so we can improve your user experience. 
You can join conversations in our forum the Platform.sh Community (where you'll also find guides and tutorials). Further leave any feedback or comments directly here or through our various social channels (such as our Twitter account).
Stay tuned for more exciting updates in the future!
Get the latest Platform.sh news and resources
Subscribe