Build innovative ecommerce experiences together
New opportunities for digital agencies, new revenue potential
Learn more about how the Platform.sh Agency Partner Program can help build profitable, long-term relationships and grow your agency business.
Get started
Agency collaboration that drives quantifiable results
Collaboration. It's been a springboard for agency creativity, well, forever. Back in the day, it meant hours spent as a team huddled around a conference-room whiteboard, brainstorming about how to solve a client challenge. Storyboarding. Wildly shouting out tagline ideas. Sketching out wireframes. And it was exhilarating. Until everyone went back to their own workspaces, hunkering down to develop their own piece of the project pie.
Today, despite remote- and hybrid-work mandates, collaboration remains a linchpin of agency differentiation—and as your digital agency shines, you make your ecommerce client teams shine with equal brilliance. But how can you do it quickly, efficiently, and cost-effectively?
Platform.sh—the modern PaaS—frees your web team from managing hosting, operations, infrastructure, and process, all tasks that consume valuable resources, time, and margins. Instead, developers can focus 100% of their energies on what they do best: collaborating to more rapidly build innovative shopping experiences. Experiences that exceed growing consumer expectations. And that, most importantly, deliver quantifiable business results for you and for your clients.
A program that rewards your agency's growth
When it comes to attracting, retaining, and supporting clients, it helps to have a partner who understands your agency's business. With a mission to make Platform.sh an integral part of your business model, our Agency Partner Program incentives are designed to save your agency time and develop new revenue streams.
As a Platform.sh digital agency partner, you can leverage the combination of our highly reliable, robust hosting anda flexible toolset. You'll be positioned to take advantage of special features, preferred pricing, co-marketing, and co-selling opportunities to help grow your business.
Choose the projects and clients who energize you. Stay local. Go global. It's all up to you. We'll be here to support whatever direction you take your business.
More billable hours, more projects, more satisfaction
Leveraging a diverse, flexible portfolio of built-in development tools—and support for the languages and frameworks your talented agency team already uses every day—Platform.sh offers a security-rich environment to effortlessly build, run, and scale innovative websites and web apps. From basic ecommerce sites to sophisticated headless wonders. Whether it's a single site or an entire global website fleet.
Free up your team for more billable hours.
Take on more projects with fewer resources—and get them out the door faster.
Deliver more creative, unique ecommerce solutions.
Efficiency—without added resources or cost
Automation. Real-time collaboration and problem-solving that extends across your agency teams—development, design, content, marketing—and out to clients to become the glue that makes them stick with you over the long haul. Workflows that streamline processes from beginning to end. Actionable performance measurements available on demand. Platform.sh enables all of these, creating efficiencies for your agency that save time, optimize current talent, and contain costs.
Automation

By automating environment creation, provisioning, and data cloning, developers can jumpstart strategic projects, quickly building and refining new offerings and features.

Unlimited environments

Unlimited environments enable developers to collaborate on a single project. Work on multiple initiatives in parallel with designers and marketers to hit deadlines. Or transition easily between projects. All while speeding user testing and stakeholder reviews/approvals.

Migrate current environments to save time

Save time by migrating current applications, instead of re-creating them. The ability to plug-and-play data services translates into less time taken for your dev team to try out and deploy the smartest solution for every project.

Support for fleets

A big fleet—or collection of web apps—doesn't mean you need to have a big team to support it. Platform.sh provides a single engine to power your fleet, enabling your team to quickly refresh content or campaigns and to develop, test, deploy, and patch all your clients' apps as easily as they would one.
"Enterprise-grade hosting—without the hassle of infrastructure management"

Jeroen Versteeg
CTO/Co-Founder, AlisQI
Flexibility to adapt, prepare for the future
With Platform.sh, your team retains the flexibility to build best-in-class solutions with today's tools and technologies. Then quickly integrate those that will become available in the future to give your agency a strategic business advantage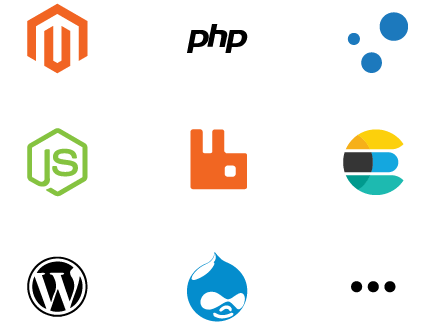 Break away from the restrictions and costs of being married to vendor-specific technologies. Instead, give your digital teams the ability to experiment with new features, frameworks, and infrastructures to optimize your websites and web apps, minimize risk, and adjust quickly to capitalize on opportunities.
Better plan for future growth—and mitigate future challenges—by easily scaling your clients' websites up or down to accommodate traffic peaks, lulls, and app volume. Whether you're dealing with millions of requests per hour or managing thousands of sites.
"In the end, a lot of decisions boil down to money. With Platform.sh, you no longer have to think about upgrading your server to a new PHP version, it's just a one-line change. Deploying a new feature and having your marketing team checking it out is a 5-minute task. Platform.sh costs money, but you'll also save a lot of it if you think about the time your engineering team can spend on business-critical features."

Bram ten Hove
CTO, Open Social
Faster time to market
Without the need to invest in building and managing core infrastructure, Platform.sh enables your team to immediately build compelling commerce experiences that keep clients coming back. Helping your clients get new apps, website features, campaigns, and services in market faster can translate into your agency's secret sauce.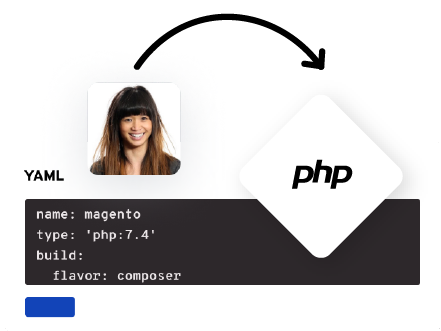 With Platform.sh-provided infrastructure, databases, and services, your dev team can launch or make updates quickly—with just a line of code.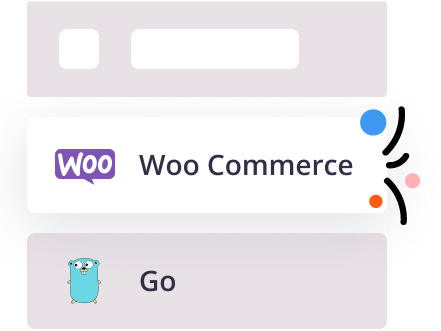 Even a complex architecture is easy to deploy with a single click, giving your dev team a fully built, managed infrastructure that they can create engaging solutions on top of.
"Smooth and reliable platform [that] really speeds up software delivery"

Mohammed Razem
CEO, vardot
A foundation of trust: security, compliance, reliability
Platform.sh delivers a foundation of certified security and compliance, transparency, and availabilityfor your websites and web apps in a single package, so you can preserve client and end-customer trust.
Find out how to add even more dimension to your agency's portfolio and more revenue to your bottom line.