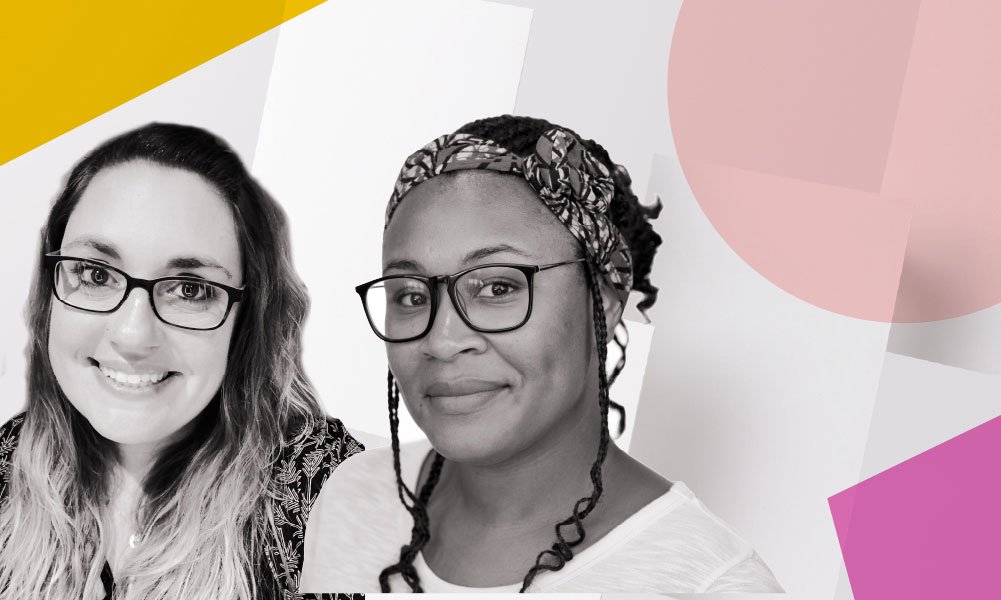 Platform.sh | Journeys Erin Austin + Céline Villet Boongo
November 18, 2020
Speaking the language of family: how two Platform.sh veterans forged a friendship across the Atlantic Ocean
One's daily commute takes her to the Strasbourg – Saint-Denis stop of the Paris Métro, from where she steps out onto the Boulevard St. Denis, walks a half-block to the Boulevard de Sébastopol, and turns left, passing the sidewalk tables of a trendy brasserie before marching through the elaborately carved stone archway of her office building.
The other's trek to work takes her only as far as her three-season porch; her husband equipped it with a wall heater to make the fourth season occasionally bearable. She looks out onto the awakening streets of the village of Brooklyn, located on the wrist of Michigan, before sitting down at her Ikea desk to log onto her laptop.
Two morning routines spaced six time zones and four thousand miles apart. Two co-workers—Céline Villet Boongo, Platform.sh's European Union office manager, and Erin Austin, the company's people ops and administrator—working hand-in-hand despite being an ocean apart. Two women who over the past eight years have formed a friendship that proves affection and laughter can shatter the thickest of language barriers.
The stupid American and the sweaty Parisian
"I'm horrible with languages," confesses Erin. "When I travel to France for work, I won't go out alone to restaurants or any places like that, because I don't want to be that stupid American that can't speak the language."
"The same for me!" says Céline. "When I have to speak English, I get so stressed that I sweat. But it's different when I speak with Erin. We are so close, we are like family. And when you are with someone who is family, you don't have to talk to know what they think."
In many families, the most contrasting personalities form the closest bonds. Erin and Céline are that kind of pair. Erin wryly describes herself as "not super positive all the time," which may be why she relishes her Slack chats with Céline. "She's always so upbeat. I can see the smile on her face even when I can't see the smile on her face. When I talk to her, I feel happier. And she's always there when I need her. From the beginning, she's just been one of the most reliable people I've ever worked with."
Céline is quick to brush off this compliment. "I'm so unorganized! That's why Erin is my god. When I say, 'Oh, Erin, please help me!', she is there. She will do anything for me."
Together for the ride
Erin and Céline are quick to turn to each other for assistance because they have similar duties. Operating out of Platform.sh's Paris office, Céline handles payroll and accounts payable for Platform's European Union employees and contractors. Erin manages payroll and invoicing for employees and customers in the United States.
"But there's a lot more to our jobs than just that," says Erin. "We both have to be jacks-of-all-trades. I help set everyone up with benefits: health insurance, life insurance, dental and vision. I order new employees their computers. I process all the reimbursements. Céline's duties are like that too. We dabble in a lot."
They're trusted with so many diverse duties because both have been with Platform.sh since before it was even officially founded. Both started working for the company when it was still Commerce Guys: Erin in 2011, Céline the following year. "I was hired as an office manager," says Erin. "We had a small office in Jackson, Michigan, where there were only five other employees. As the years went on, I got more and more and more things to do. As the company has grown, my role has grown. Same for Céline. It's been a fun ride for us both."
Sharing a grand journey
Of course, the ride is always more fun when you have company. Every year (pandemics allowing), Platform.sh brings together its world-wide remote workforce for a festive gathering. The employee summit in Italy in 2016 is where Erin and Céline first met in person.
"The summits are amazing," gushes Erin. "It's crazy what a difference it makes being face-to-face with someone instead of talking to them over a computer. When you actually get to know someone by being with them, it makes a world of difference. I loved Céline from the first moment we chatted online. But when I met her in person, I loved her even more."
Between the summits and traveling to the home office in Paris, Erin has had opportunities to hang out with Céline on Céline's turf. But Céline is still waiting for her first chance to see the United States. "I want to visit so I can eat a big burger! Mmmm! And a hot dog. Oh, and I also want to see the Grand Canyon. I hear it's so beautiful"
Erin pipes in excitedly. "I've never been there! When you go, Céline, I'll go with you."
For eight years, Erin and Céline haven't let being an ocean apart keep them from sharing their Platform.sh journey with each other. As they giddily fill the Zoom call with plans for their grand American tour, it's clear that their journey together has many more miles to go.
Get the latest Platform.sh news and resources
Subscribe